Ryder Cup Press Release
Media Center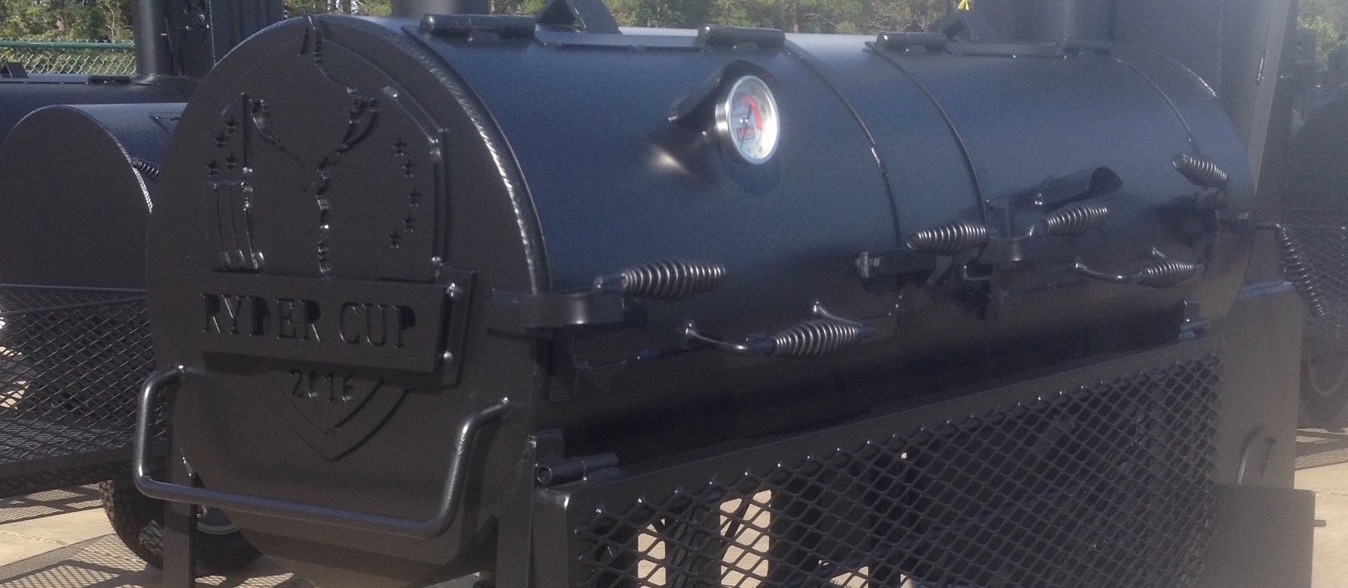 Nahunta company that once turned old propane tanks into smokers now selling cookers worldwide
Jacksonville Times
NAHUNTA | Twenty-eight years ago, Ben Lang converted an old propane tank into the first of his smokers.
Things have changed and now Lang rolls his own steel to custom-build five or six models of six sizes of Lang BBQ Smokers.
The company ships around the world with some of a recent order of 21 going about 40 miles to St. Simons and one going to California to PGA Tour pro Phil Mickelson. Mickelson was a player on the 2016 U.S. Ryder Cup team and team captain Davis Love III wanted to make sure each player got one of the Lang smokers that he prizes and endorses. Zach Johnson already has his at his St. Simons home, is grateful for it and is praising it on social media.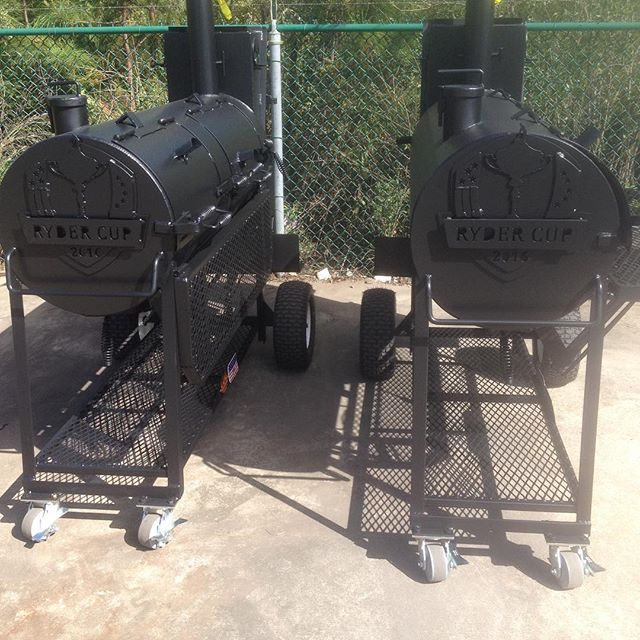 The smoker business grew out of a South Georgia necessity.
When Lang was growing up, there weren't many caterers in Southeast Georgia so family members cooked for each other.
"The design was to cook for large crowds, family reunions, weddings. A cousin asks you to cook for a wedding, and he'd say we need to feed 300," he said.
Lang, who was working in marketing, decided to produce smokers from a basic family design of meat sizzling on a grid over a griddle using what was available at the time.
"That was propane tanks. It was enough to get us cooking," he said.
Lang is still expanding, adding extra small and extra large to his four basic sizes and producing five or six custom models off each size.
His namesake grandfather, Ben C. Lang, lived in Camden County and sold meat out of horse-drawn wagon, and he grew his own.
"He had 300 woods hogs when he died. You can still go to courthouses and find my granddaddy's mark," he said.
The mark was the recorded brand that farmers used on free range livestock, hogs included, before fence laws.
Lang makes some hybrid grills with two fire boxes, one for charcoal and one for wood, but he stresses, "The people who buy from us, it's in their culture to cook with wood."
John Moore delivers smokers for Lang and has found a common element in the customers he has served from Boston to the Keys and from St. Simons to California.
"I've been to California 12 times, Sacramento, San Francisco, Los Angeles. Everybody is as nice and as gracious as they could be," Moore said.
Moore has deliveries ahead of him. Lang went down a two-page list of orders, heavy on Georgia, naturally, but spreading out from there.
"There's Nova Scotia," he said. "Twice."
There were other orders that will have to cross oceans.
The smokers start at $1,295 for a patio model and go to $7,800 for an extra large unit on a mobile trailer that will cook 600 pounds of meat. And Lang can combine features among the sizes and models and put names and designs on them in steel. His son Benjamin is good with technology and programs the precision plasma burner to cut out the designs and letters.
"We've seen a steady growth in our business since we started in 1988. It's uncanny how much repeat business we see," he said.
That must mean whoever is buying them is expanding their own business or buying it for someone else because Lang cookers are made to last.
"I wanted a product I could build goof proof. Never wear it out, building it heavier than anybody else, better than anybody else," and with a design easily cleaned so it could be ready to use again quickly, he said.
Popular and nationally known Southern Soul Barbeque has three Lang smokers at its restaurant at the intersection of St. Simons two busiest roads.
Pitmaster Terrance Lewis was out at 6 a.m. recently stoking the fires getting one ready for the meat.
"We use them here every day," said Lewis, who has cooked at Southern Soul for 8 years. "They cook good."
Lewis figures the smokers with their constant exposure to the heat of smoldering live oak would eventually burn out, but one of the smokers indicates that may not be true: It's one of the early models made from a propane tank.
"This was here when I got here. This is an old-style Lang. We still use it," he said.
One of the advantages of cooking with a Lang is that it works without electricity. When Hurricane Matthew came through, the power was out on most of St. Simons for days, but Southern Soul fired up its smokers and fed police, cleanup crews and anyone else on the island.
Lang also gets some new business, much of it from word-of-mouth or via social media. Golfer Jim Walker, for example, posted a photo of his Lang smoker on Instagram, and Johnson tweeted about his. Both have plenty of followers.
Love did a testimonial, saying food is better cooked on a Lang and "nothing punches flavor into food like a Lang. ..."
Love learned about Lang from a family member as he was getting into barbecue.
"My brother-in-law said, 'If we want to do it right, we've got to get a Lang'."
He bought one of the original propane tank models, but is cooking with newer models now, and Love's admiration is borne out by the product's success.
"It's incredible how far that business has come in 20 years, and they're still growing," Love said.
That's helped by people talking, including the Ryder Cup players and all his assistants.
"There're guys all over the country who have them," and it doesn't hurt that places like Southern Soul and Home Team BBQ in Charleston, S.C., are smoking with Lang, Love said.
The Lang crew cuts and rolls mild American-made steel and welds it into smokers. At any time there are 30 to 40 in production and 20 to 30 in the planning stages. He had a customer who ordered two for Christmas presents.
"This is a Christmas present that comes with a title," he said.