Lynnae Oxley
Q-School Instructor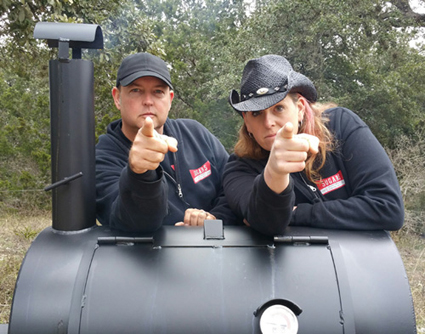 About Lynnae Oxley
Lynnae Oxley is the owner, Head Pitmaster, and Barbecue queen behind Sugar's Barbecue located in Portland, Oregon. She is a proven champion with dozens of top awards in every category including: 10 Grand Championships and 7 Reserve Grand Championship titles. When Sugar's BBQ is on the team list, she becomes the one to beat. Sugar's was also featured on Destination Americas "BBQ Pitmasters" seasons 4 and 7 television shows. Lynnae also runs a growing, seasonal catering business as well as works cutting meat and seafood. She is personable, approachable, and simply loves to share her knowledge about all things barbecue. These classes will be hands-on, very informative, fun and you will walk away with lots of information, and a new perspective on approaching your next cook off.
Lynnae's past classes:
These classes cover: meat selection, preparation, smoker cooking and finishing championship barbecue. There is also talk on theory and sharing information to help attendees get a better edge on their smoking techniques. From seasoned competitor to beginner, everyone will see everything from start to finish. Learn some new tricks, pick up some information, and polish up on skills. We promise. No information held back! Most attendees say they can't believe how much information they gained in one day. From chefs to enthusiasts, everybody benefits!
Classes will feature some amazing rubs, injections, and sauces from Lynnae's personal sponsors Victory Lane BBQ, Oakridge BBQ and Butcher BBQ.
Lynnae Oxley as seen on TV BBQ Pitmasters

Lynnae Oxley Winning on a Lang 60 Deluxe with a Chargrill
Lynnae rocks the competion on her Model 60 Deluxe with Chargrill, smoking her venison tenderloins to perfect doneness and impressing the judges. Congratulations Lynnae!
Like, fav, and comment on YouTube