Welcome to Lang BBQ Smokers® Q-School
Smoker Cooker Cooking Classes
---
2023 Fall Cooking Class
with Pitmaster Darryl Strickland and Pitmaster Matt Lee
Saturday, November 11, 2023
Time: 8:00am - 4:00pm
Cost: $450
---
Location:
Lang BBQ Smokers® Kitchen
| 4649 Main Street Hoboken, Georgia 31542
Major cross roads are: US 82 at Palm Street
-
More directions and hotels
Classes are limited in size- book early to insure acceptance.
What is the Q-School?
Lang BBQ Smokers offers barbeque smoker cooking classes at our Q-School and cooking demonstrations at various barbeque festival events with our Q-School On The Trail. Read what people have to say about Q-School.

Classes are limited and students will be cooking on a Lang BBQ Smoker or they can bring their own. Many first time purchasers coordinate the pick up of their smoker cooker with the class so they can season the grill.

The class is suited for back yard BBQ enthusiasts, seasoned barbeque competitors and those considering opening a BBQ business (catering, mobile restaurants...).

Smoker cooking classes are held at the Lang BBQ Smoker Kitchen in Hoboken, Georgia.
Congratulations to Darryl Strickland & the Lang Competition Team
---
For coming in #1 in points, #1 in loin, #1 in ribs, #1 in pork, and being named the Georgia BBQ Association Team of the Year 2019-2020!
Learn on your very own smoker cooker!
Purchase a Lang BBQ Smokers® cooker.
Attend Q-School & use it during class.
Take your seasoned smoker home with you!
---
A New BBQ Competitor and Someone Who Came for the Class and is now planning to buy a Lang
Keith from Orlando, Florida says he learned lots of tips and tricks from Chef Paul Kirk and is confident it will help him win some competitions on his Lang.
Doug is ready to ride back to Dickerson, Maryland with his new seasoned Lang smoker cooker and some great ideas for rubs.

Like, fav, and comment on YouTube

Read more Testimonials
---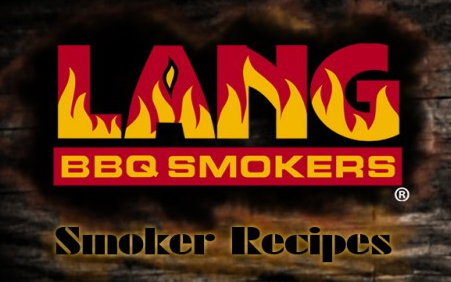 Now to test your skills and smoker cooker.
Check out our Recipe Blog

Our blog is filled with delicious smoker cooker and grilling recipes that will please anybody. Created with Lang BBQ Smokers® smoker cookers in mind, whether you are cooking slow & low or hot & fast. Have a hybrid or a grill attachment on you smoker cooker? We have hot and savory grill recipes as well!
---