Lang BBQ Smokers® only sells Factory Direct!
---
MANY Models in Stock Now! Don't Miss Out!!!
Little or no wait-time on other models, the luxury of inventory and short lead times.
*We still recommend that you call in advance and that you always pre-order in the spring.
Lang BBQ Smokers®
The #1 stick burner
Lang BBQ Smokers® are the #1 BBQ smoker cookers because they use a revolutionary way of grilling, cooking and smoking meat, chicken and seafood to perfection. The Lang BBQ Smoker Cooker is the originator of the reverse flow, off-set firebox design that, along with the heavy, 1/4-inch plate steel construction, allows for even, consistent sizzling and searing of the meat to goof-proof perfection.
The Lang cookers are called "stick burners" because they burn wood on one side of the unit, in the firebox, to create heat circulating evenly around the meat in the main cooking compartment. This method of creating clean heat circulating around the meat sizzles off fat for a healthy, lean, delectable barbecue flavor.
Barbecue enthusiasts can alter cooking methods to create more of a smoked flavor as tastes dictate. Lang BBQ Smokers are easy to keep clean so you can spend your time grilling, smoking and enjoying the most moist, succulent barbecue with your family. Call today to order a Lang and start making the best backyard barbecue memories with your family and friends!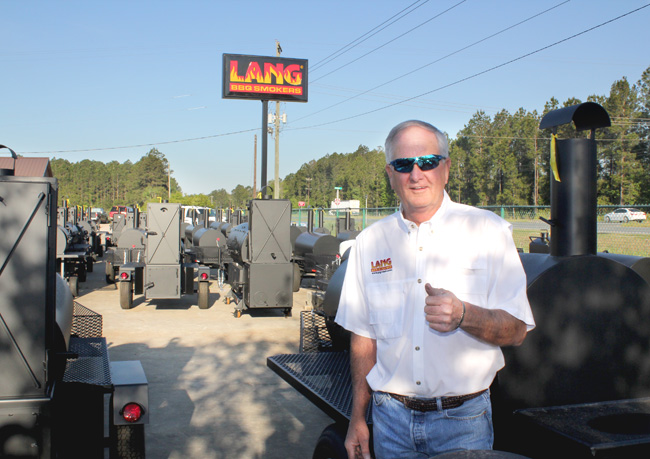 Originator of the Reverse Flow Method
In production since 1988, smoking meats since 1898. Buy the best proven brand, buy a Lang BBQ Smoker®. As Ben C. Lang II said when he started producing his reverse flow Lang BBQ Smokers®, "They cook so good, that one day everybody (that manufactured) would make one".
Now 30+ years later, "that's just what we've got- everybody makes one!"
Buy the original you will be very satisfied!
We are Factory Direct Only!
Factory Direct means you CANNOT BUY IT ANYWHERE ELSE. Lang BBQ Smokers® are ONLY sold on this web site (langbbqsmokers.com and cart.langbbqsmokers.com) or by contacting us at our toll free - 1-800-462-4629
WE DO NOT SELL THROUGH DEALERS OR SELLERS, WE DO NOT SELL THROUGH Amazon, AND WE DO NOT SELL THROUGH E-Bay. And have never. You cannot buy a genuine new or demo Lang BBQ Smoker® any other way, don't be duped by thieves and liars. Report the fakes immediately to sites or social media; otherwise they are stealing from you and others. As we have been reporting the fakes as well.
Buy ONLY FACTORY DIRECT from Ben Lang and his staff in Georgia, toll free -1 800 462-4629. Accept No Substitutes or Imitations.
Every genuine Lang BBQ Smoker® since 2016 has the Lang face plate riveted to it. If your smoker doesn't have one, you are not #cookingOnALang
Finance Options
When considering the purchase of a Lang BBQ Smokers smoker cooker, it is important to note that we exclusively accept loans as a form of payment. This policy ensures that customers have access to the necessary financing to afford their high-quality smoker cookers without compromising on their budget, making the ordering process easier. Consider local Banks, Credit Unions, Lending institutions, and Finance Companies. They allow you to make your payments locally and establish goodwill you may need later.
BBQ Pitmasters
Food and Wine
Manufacturing Marvels
Ryder Cup
Meathead Amazing Ribs

Meathead's Amazing Ribs
Voted Best Value; Platinum Award for 36" Hybrid Original, and Gold Awards for 36" Original and 84" Original
Netflix
Jacksonville Jaguars
Lang BBQ Bucks
MORE LANG FOR YOUR BUCKS
The Perfect Gift for Any Occasion.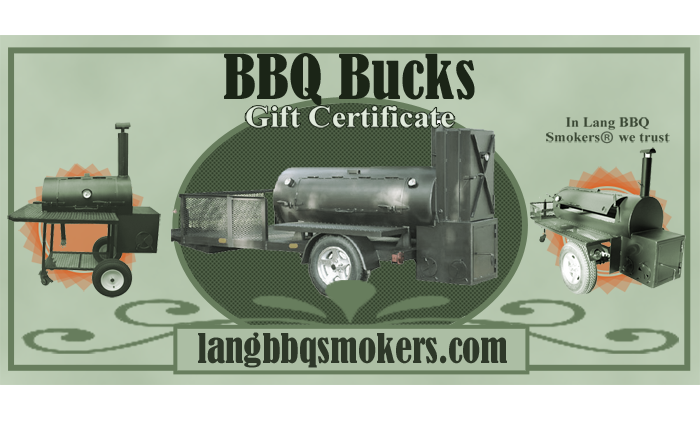 Treat your BBQ enthusiast with Lang BBQ Bucks! BBQ Bucks can be used on everything in the Lang BBQ Smokers Online Store from merchandise, and of course, towards smoker cookers. As well as Q-School Classes! Multiple amounts available for purchase, get yours today!
What's Cooking?
Current Hot Lang BBQ Smokers® News and Reviews
Current Hot Review
BBQ Competitor at Heart
"Ben, I appreciate the shirts and will wear them proudly.
I bought a Lang60 from an individual back in 2007. I used it for family events, fundraisers and competitions. It was a cooking machine!!!
I sold the Lang60 about five years ago because I decided to quit competing and none of my kids wanted it as an inheritance item.
I thought incorrectly I would be able to make competition quality ribs on other cookers. Finally realized the only way I would ever make super good ribs again is to buy another Lang.
Really like how high the cooking grate level is on the 48 and love the wagon wheels. It is definitely build like a tank. You all make tremendous stick burners."
Thanks and have a great weekend!
Paul Stonner
The Jaguars and Lang 84 Deluxe Smoker Cooker
Meathead Panel Discusses Fire Management