BBQ Competitor at Heart
"Ben, I appreciate the shirts and will wear them proudly.
I bought a Lang60 from an individual back in 2007. I used it for family events, fundraisers and competitions. It was a cooking machine!!!
I sold the Lang60 about five years ago because I decided to quit competing and none of my kids wanted it as an inheritance item.
I thought incorrectly I would be able to make competition quality ribs on other cookers. Finally realized the only way I would ever make super good ribs again is to buy another Lang.
Really like how high the cooking grate level is on the 48 and love the wagon wheels. It is definitely build like a tank. You all make tremendous stick burners."
Thanks and have a great weekend!
Paul Stonner
California Firefighter using a Lang BBQ Smoker for station events
Mr. Ben Lang,
Sir I wanted to write this email to say thank you. I am currently using a"48 inch Original (2020) " and my first smoker was a 36" Hybrid (2016). For both purchases I spoke with you on the phone and received excellent customer services as well as answers to all questions. I started as a backyard only and have since graduated to bigger events. I am a Firefighter in California and been able to cook for station/department events such as Probationary meals, Holidays, Retirements as well as a Memorial for an active duty death one year anniversary. I've tried to showcase your smokers and answer any questions which has led to fellow Firefighters purchasing smokers from you as well. The memorial we used two 48" Smokers and fed 175 people, smoking 180+ lbs of meat. Please accept my gratitude and I look forward to possibly upgrading in the future.
Thank you,
Kyle
PS: Your staff has also been very friendly over the phone, they used to call me "Kyle from California"
Zac Brown Cooking on a Lang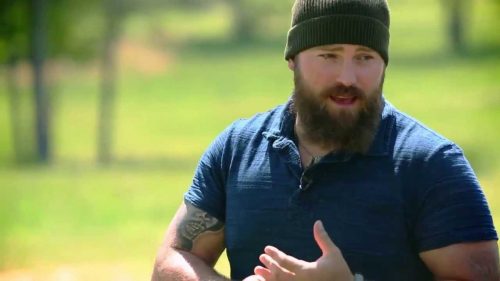 Click to learn more about what Zac thinks about his Lang BBQ Smokers® cooker.
Lang Smoker Cooker Testimonial from NJ!
Grateful user
"I want to tell you how grateful we are to have had use of your cooker! I didn't realize it, but all our bbq-ers use Lang cookers. They were very complimentary of the new design, especially the larger top rack. The bbq guys are all award winning, so between them and your cooker the meat was fantastic! ...Thank you again for allowing us to use your cooker, and for making such a great smoking machine ;)"
-Jocelyn Xamis
Coastal Heritage Society
Savannah, GA
Smoker Cookers Bring Joy to Life
"Dear Mr. Ben Lang,
I received my Lang 60 Original almost a month ago. I have only had the opportunity to smoke cure it, and to cook on it once. I cooked some beef briskets, baby back ribs, and some spare ribs. Everything turned out great. My father passed away this past Saturday and one of the last things he talked to me about was how much he enjoyed the ribs I cooked. He was in a great mood and seemingly feeling well because he mentioned firing up the smoker and cooking some ribs. My father was a wonderful cook and he knew good food. He was as proud of my Lang 60 Original as much as I am. His passing was sudden and at home and by all indication pain free. He was in the kitchen preparing food for our weekly Sunday afternoon family meal. Thank you for providing a quality smoker cooker that brought some joy to my father's life.
One more thing I have to tell you; my neighbors are telling me that the smells that came from my Lang 60 Original was making them hungry. They are already requesting that I feed them the next time I cook. I am one happy customer and I look forward to using and learning more about how to use my cooker in the days, months, and hopefully years ahead. What a hobby! What a way of life! Thank you Ben Lang."
-Scott Frakes
The best cooker I have ever cooked on
"...My Dad purchased a Lang Smoker a few years back from you and it is the best smoker we have ever cooked on. He bought it about two or three years before he passed in 2008 and really enjoyed cooking on it. He was cooking for a lot of the people in our neighborhood. Word got out and I have started cooking with it since his death. I really enjoy getting out on Saturday mornings and firing that baby off and cooking for people. It will cook the best BBQ you have ever put in your mouth. I would recommend this Smoker to anyone. Most people think like my Dad did and say to themselves that I can cook just as good on my old smoker as anyone else can on that smoker. I hate to say it but they are wrong just like my Dad was. Once he cooked on the Lang Smoker he said I wished I would have had one of these Smokers my whole life. He also said he never knew smoking/BBQing could be so easy and fun. I know if you are reading this right now you are saying to yourself yea right just like we did. The old saying goes don't knock it until you try it. I guarantee you will be satisfied with this product if you buy you one."
Thanks,
-Michael Warren
Grills and smokes to perfection!
"A few months ago, I drove to your shop in Georgia, and I purchased a Model 84 with deluxe warmer and charcoal grill on the front. I absolutely love the smoker. I have smoked so many things on it, and everything turns out fantastic. Since this was my 1st smoker, I was hoping to get a unit that was very "user friendly" and "idiot-proof". This one surely fits the bill. I did a ton of homework before purchasing a smoker, and your name seemed to always come out on top!..." CONTINUE READING
Easy use from start to finish
"...I hope you enjoy the final production. Likewise, I hope you find the DVD content to be helpful to anyone considering one of your fine cooker products. Ben, I just can't tell you how happy I am with the 36" Cooker. Everything about it exceeded my expectations. It's easy to use from start to finish. Just this past July 4th holiday I cooked 4, 10 lbs. Boston Butts and 4 racks of ribs for family and neighbors. People just loved the meat. I think I had more fun cooking it than eating, but you know how that goes…LOL..." CONTINUE READING
Love our 60" smoker cooker!
"I just have to write and tell you how well we love our new mobile 60 smoker. I was so impressed by your setup when we picked up the smoker and by the way we were treated. We hurried home, driving back to Sheridan. The Saturday we got home we went to work smoke curing the mobile 60. On Sunday we smoked up a pork butt and also 3 racks of baby back ribs. I have never been able to produce ribs and chopped pork of that quality. I am so impressed with the smoker, and look forward to many days of hickory smoke in the yard. We are planning to do our first bbq competition in September and I will let you know how we do, with the new Lang mobile 60 smoker."
Thanks again,
-Chris & Melissa Green
Great BBQ At Trump National Golf Club, DC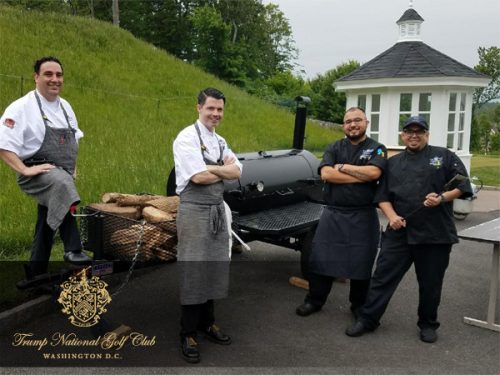 "We would like to say a huge "Thank You" to you and your team at Lang BBQ Smokers!!!
We get nothing but great compliments on our food from the members, but it's the show of the Lang smoker itself with a great smell that draws them in."
Respectfully,
-David W. Propst
-Chef de Cuisine
-Trump National Golf Club
Custom BBQ Wagon!
"Just wanted to let you know the BBQ Wagon is awesome!!! We've done a few festivals now and people are flipping over the Q! The meat is so much more tender and juicy and having the trailer makes hauling our gear a snap. There has been many guys and a few ladies interested in the cooker, which Danny gladly shows off. Several people have written down your info. Most people remark on how beautiful and sexy it is!!! I've attached a few pics for you. You should definitely add the BBQ Wagon to your line of smokers!"
Thank you so much,
-Danny & Heather Thornton
Country Boys Barbeque
New Hybrids - Smoker Cooker & Charcoal Grill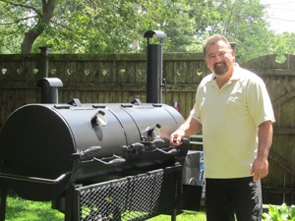 "I got my Lang 36" Hybrid Patio yesterday, seasoned it up and ready to cook today. I won't say how great it is, I will post a picture on Facebook!"
P. Prestano
If I were to have to start over at the beginning, knowing what I know now, I'd definitely start out competing using Lang smokers.
- Forrest Dilmore, Jr.
extract from an interview on The BBQ Smoker Site
"... Over the next four years...unknowing to me...I would collect thirteen Stump's Smokers...along with several others of various flavors. I competed exclusively pretty much using the Stump's Smokers until just recently. I now exclusively compete on Lang smokers...bringing together my flavor profiles, a pleasing wood aroma and taste, and the unique "sizzle" that's produced only by a Lang….all married together into a great tasting prize winning product."
get the full story
Right on time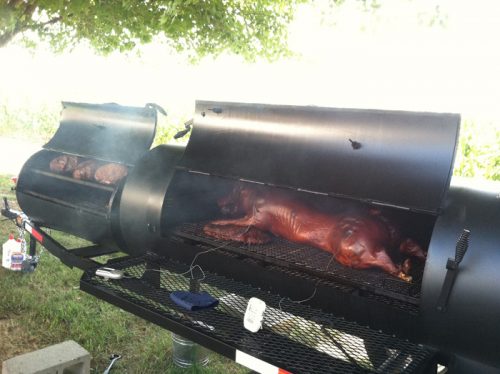 "Thank you so much for getting the cooker here in enough time. We ended cooking a 120lb pig, beef brisket, ribs, chicken quarters, and pit beef. Everything turned out great! ... here in Maryland.
Once again, thanks and hopefully we'll have some more pictures for you soon."
-Carrie Dilling
It makes our day when we read testimonials such as these
Dear Ben and team,
Well, I was never happier than the day your folks showed up and delivered my 60" Original Smoker. My wife's reaction was "holy cow, that thing seems a lot larger than the old smoker you have". I've since cooked on it 7 times in the two months since I received it. After cooking on it, I couldn't be happier, nor have I made BBQ this good in my entire life. My wife is a fan of pulled pork, but not necessarily ribs. After cooking my first racks of St. Louis style ribs, my wife now LOVES ribs. Friends that I've cooked for have commented that "this is the best barbecue I've ever had". Common complaints are not centered around the food quality or taste, rather around running OUT of barbecue. I can't thank the folks at Lang enough for the awesome smoker - it holds temperature great, cooks food the best I've ever cooked and is super easy to clean. The industrial valve on the bottom for cleanout is brilliant.
In short, great product, I will recommend it to anyone who asks. One of the unfortunate side effects, I have now been asked to cook ribs, pulled pork and chickens for a wedding with 125 guests. With my old smoker, an impossibility. With my new smoker, with proper timing - definitely possible to pull it off!
I also want to add I love the videos on the website. When I'm having a bad day, I pull up one of your videos and watch it and instantly my day is better!
Thank you again for the time, patience, and making a great product.
Jeff Leigh
Happy Lang BBQ enthusiast from Michigan
Would you like to send us a testimonial?

Contact Lang BBQ Smokers Contact Lang BBQ Smokers®, email us at [email protected]

Lang FacebookThe Lang BBQ Smokers® facebook fan page is our most active community of Lang BBQ Smokers® fans. Send us a message and we will post your testimonial!

Lang Twitter You can also share your testimonials and photos with us on Twitter!

Feedback Form Send us Feedback with our feedback form!