For the backyard and at home cooker
Lang Hybrids for backyard cookers Lang BBQ Smokers has two series of smoker cooker models that are popular with families for backyard use. The 36 and 48 series are considered "small" smoker cookers suitable for individual and extended family cooking.
Backyard smoker cookers are built on patio carts and wagon wheel carts for easy movement on driveways and grass. All of our Lang BBQ Smoker cookers are welded with 1/4 inch rolled steel (the key to maintaining temperature). This means they are very heavy so the patio cart design is essential for easy movability. Some models are built on mobile trailer frames for easy transport to family outings. No frame versions are available upon request - they work great with built-in outdoor backyard kitchens.
The 36 series models have a cooking capacity of 6 cubic feet and the 48 series models have a cooking capacity of 10 cubic feet. Both series have models with the Deluxe warmer boxes which provide additional cooking capacity and can be used for cooking as well as warming. The "hybrid" units come with built in charcoal grills (see photo to right).
36" Series
This is our smallest smoker cooker but it still has the capacity to hold a minimum of 60-70 pound of meat! The model 36" is perfect for individual family backyard use. The deluxe warmer box provides additional cooking capacity and the hybrid had the charcoal grill for even more cooking. Our NEWEST 36 models are the "Stretch" models to provide additional cooking capacity.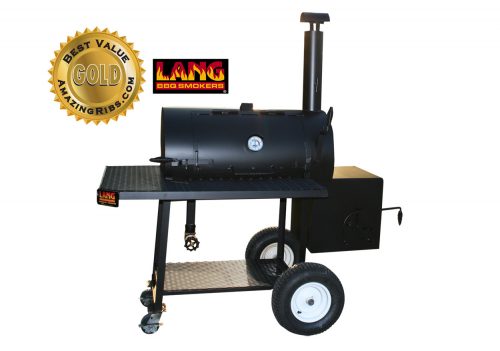 48" Series
The 48" series holds up to 10 cubit feet of food. The models with patio carts were intended for backyard use and are easy to pull, however we've seen some competitors travel with these to competitions on truck beds. The Original "48 and the 48" Deluxe are built onto mobile trailer frames so they can be hitched to a truck.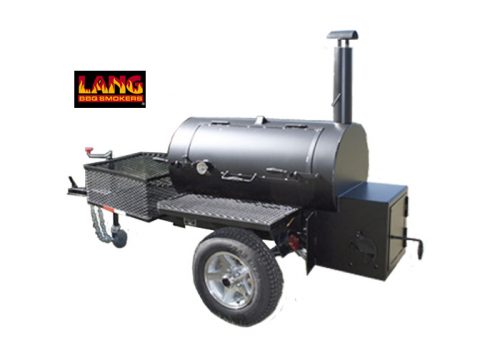 Hybrid Models
Our backyard "Hybrid" models are single units with both a smoker cooker and a charcoal grill. The hybrid is built from a single cooking cylinder and the smoker cooker is located near the off-set fire box to accommodate the reverse-flow design our smokers are famous for. Our stick burners are great for cooking low & slow and fast & hot - they sizzle and sear meat for healthy eating and goof-proof perfection! However a charcoal grill is still very popular for outdoor family cooking. Our Hybrids combine the best of both smoker cooking and barbecuing!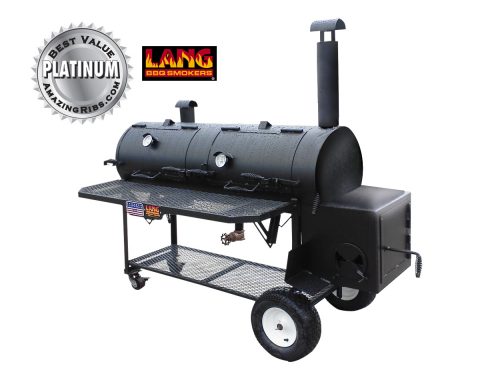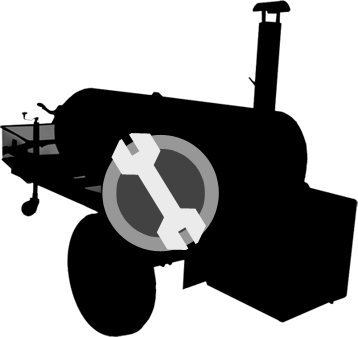 Customize
Need something on a Lang BBQ Smokers® model that isn't standard? No problem! Lang BBQ Smokers® offers the option to have customizations done to your smoker cooker! All Lang BBQ Smokers are custom handmade to order which means that we only use the the materials needed and there is no stock that is sitting unused. By not having an assembly line and only hand making smokers to order Lang BBQ Smokers® can create custom smokers at the same time as our standard models. We pride ourselves on offering superior barbeque smoker cooker grills that are designed and built in the USA and made to last.
Love our Patio #36 Stick Burner
"Ben, Again: just want you to know that my wife and I just love our Patio #36……kudos!!!"
-Bill H.
Shelton, Washington
BBQ Ambassador Trybe Targeting
"Ben, We had our first event this past weekend at the Jacksonville Beach Pavilion area, for the Great Seafood Festival. Promoting the new Garland Jack Secret Six sauces. I enjoy cooking on the 48 cooker, it reaches temp easier for everyday use, something I had trouble enjoying the 84 I had last year.
I really like the new 48 Hybrid on your site today. My wife Darlene and I would be interested in a cooking class later in the year when the Garland Jack season closes July 15th. Wish I was headed to Vegas with you and your team.
Best of Luck!!"
-G. Bassett
Smokin 'n' Jokin BBQ
Fernandina Beach, FL