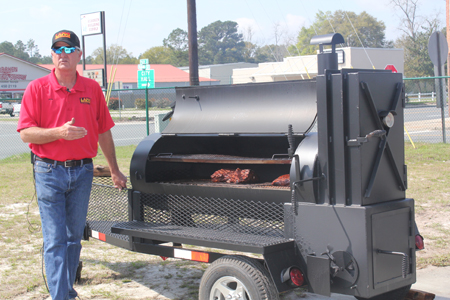 Following the invention of the Lang BBQ Smokers® by Ben C. Lang II in 1988, our smoker cookers have become the standard for the industry for over 25 years. As a family owned and operated business, personal care and pride of ownership has made the Lang family icons in the barbeque industry.
It's all in the design
Ben Lang's unique design featuring reverse-flow, an off-set fire box, and 1/4 inch welded steel provided consistent cooking results, attracting thousands of customers world-wide. Ben's design gave BBQ enthusiasts exactly what they wanted and needed – consistently perfect barbecue.
Created by hand
To this day, every smoker cooker is hand-made and hand-crafted by the Lang BBQ Smokers® team. It is a product that is proudly made in the USA. The Lang BBQ Smokers® team stands ready to provide you with your own personalized smoker cooker. Working from a modern, 16,000 sq. foot facility, the team will customize your smoker cooker. Left handed? Want a charcoal grill? Need additional storage space? No problem, the team will makes sure you receive the personal attention your smoker cooker requires.
Ben Lang on Pitmaster Series on Networks: TLC and Destination America
Ben Introduces the Smoker Cooker and Reverse Flow Concept
Ben Introduces the Smoker Cooker and Reverse Flow Concept
Not quite sure what a smoker cooker is or which model to buy? The Intro page provides you with all the information you need to know about smoker cookers, the man behind the Lang BBQ Smokers reverse flow technology that sets our smokers apart. In six short steps, the Intro page will answer all your questions regarding models, delivery, usage tips and much more.
This page features celebrities, business owners and competitors who cook their barbecue on a Lang. Check out this page to learn a little bit about why they chose to cook on a Lang.
Join Our Newsletter
Receive information and updates about products!
Keep up to date with Lang BBQ Smokers® news!
Contact for more information