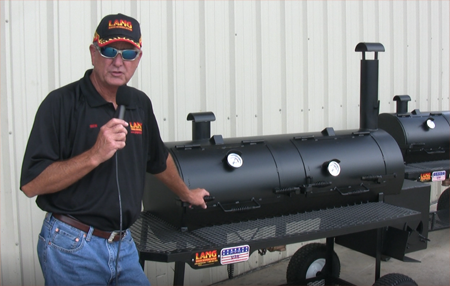 The barbecue industry has always had a fascination with finding the next best thing in cooking better BBQ. Lang's smoker cookers are part of that scenario. Ben is interviewed by many cooking and BBQ radio stations regarding is smoker cooker and "reverse flow". Below are some of the interviews with Ben and celebrity DJs regarding that subject.
The Q-School smoker cooker classes, located in Hoboken, Georgia, give you the opportunity to learn from hands-on demonstrations with Chef Paul Kirk, Lang competition team members and other special guests. Backyard enthusiasts, competitors and business owners are all welcome to attend one of these smoker cooker classes.
Not quite sure what a smoker cooker is or which model to buy? The Intro page provides you with all the information you need to know about smoker cookers, the man behind the Lang BBQ Smokers reverse flow technology that sets our smokers apart. In six short steps, the Intro page will answer all your questions regarding models, delivery, usage tips and much more.
This page features celebrities, business owners and competitors who cook their barbecue on a Lang. Check out this page to learn a little bit about why they chose to cook on a Lang.
Join Our Newsletter
Receive information and updates about products!
Keep up to date with Lang BBQ Smokers® news!
Contact for more information