Smoker Cookers Made in the USA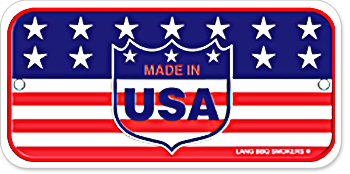 Lang BBQ Smokers® is owned and operated by the Lang family since 1988. The business operates out of Nahunta, Georgia and ships smoker cookers around the world.
This family owned business prides itself on offering superior barbeque smoker cooker grills that are designed and manufactured in the USA and built to last. The smoker cookers are built in various sizes to suite family, entertaining, competitions and commercial use such as catering.
Americans and smoker cooker enthusiasts from around the world associate Lang BBQ Smokers® with superior designed smoker cookers that just work. We attribute it to our original REVERSE-FLOW design! There are plenty of copy cats out there, but if you're looking for the best, the ORIGINAL reverse-flow with the sturdy steel designs for commercial grade and competition levels can take the heat.
In 2010, backyard versions of the smoker cooker models launched with smaller more affordable patio 36" model. In 2011 was the launch of several HYBRID models which incorporate both a smoker cooker and a charcoal grill. Even with the current poor economy, Lang BBQ Smoker Grills Inc. is growing strong. Part of this is attributed to the fact that many Americans that have lost their jobs were looking for home based businesses and the commercial smoker cookers have been an investment for kicking off a business. Check out some of the customized versions of Lang BBQ Smokers® that have been made for American entrepreneurs. The only thing that the Lang BBQ Smokers® takes more seriously than the building of their smoker cookers and grills is their customer service. A glance at their testimonials, Facebook page, and blog will show you that the proof is in the smoker. Langer's as the owners of Lang BBQ Smokers® are affectionately called even send in their videos of their yummy experienced with their new and seasoned smoker cookers.
Accept no substitutes or imitations. Buy factory direct. Buy American!